Homage for a crow
By Hanno Krusken
Are you believing in being reborn in to a personality of your choice?
Broken out of a personality that every one expected you to be?
Did you ever heard about "Christiania" and the "Thy layer"
about the "cake street, light road and the butterfly way" may the "big grey hall"??
Hmm lets tell you about a land surrounded by "Skagerrak" and "Kattegat" splattered over many islands, all most like a little gnome fighting against a wolf, if you see this land from out of space, looking down to this tiny land. A land where folks like to sing and play music all day long, hug together in winter and dance in summer, you will never find a key in any door.
Where strangers are always warmly well come. A land where the soil is so sandy, it's old, where the ancient spirit still lives below small and big erratic block runes graves of the passt.... some of this little bumpy hills called "swine's bump" where small houses scattered to the winds, hiding in the fields....and little "Nisse guys" spooking in the lofts, there my dear grows Cannabis, psilocybe mushrooms and toadstool, in that sandy soil. The winter are cold and snow blown but the wood burner, laughter and songs, warms up every heart. But there are cold city's as well, no one is singing there, and there are people who shooting your dog behind your own garden. Inside this little old houses, the kitchen always warm and nice smell from fresh bread right out of the wood fire oven with tasty jam from the summer, or cha-patchy toped with melting cheese.... hmmm ahhh.... than this sweet distinct Cannabis fog hovers through your brain and you want more of this fresh bread with jam..... music lives in your veins all night long, playing any instrument you like, Bass, Guitar, Saxophone, Piano or Drums up till the morning, and a last spliff or bong before sleep. Next morning or let's say noon, before you even go up the next pipe fires up quickly, just last you until you got out in to the garden, bare naked, who cares, to rip off a new fresh sticky seed top out of that wood of Cannabis plants, man's high this creatures grow, you don't even need to hatch this weed it will prosper all on it's own in this sandy soil..... you got the picture...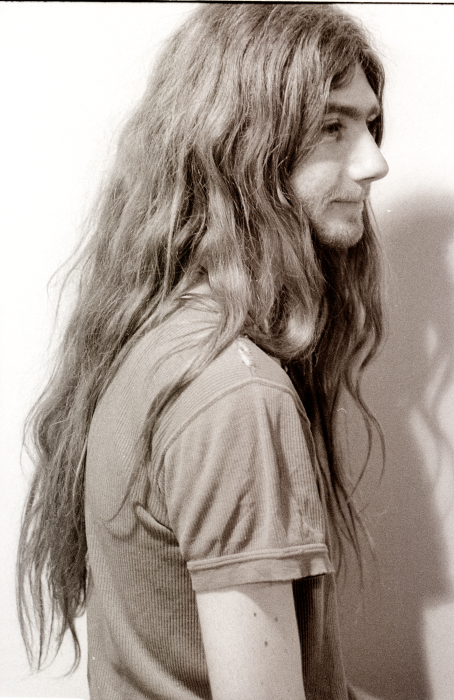 Hanno with his long hair in 1984
The days and nights are filled with every thing you ever imagine, fantasy, creativity, music, festivals, sex and love, not much money is needed any way, you make every thing you need your self, your colour full clothing and your shoes, your hair grows like the Cannabis weed "longer and wilder than yours is now my dear" :o) Time is endless and you lost all sense for what others call reality, living in a world of harmony, together with, you don't know how many cat's dogs, kid's and friends, spread out all over the land, not just that little house you know, no, every where you go to see your friends, one big family. You may think thats all a long time ago, and you are right....... It all started off in Aug/1979 and I was just 18 did not join the national service... ha... they could not find me hey cool..... A time where the youngsters just started to put soap and green colour in to there spiky hair, got pissed and trashed every thing with there boots. Hmm yea... all nice so far, but where there is light there must be darkness, and shadows can reach a even longer way as well you know. This darkness didn't wait for long.... you are around with people from many nations, speaking more than five languages at the same time and understand may half of it, learning two new languages at ones from scratch, and forget the 1st one your mother taught you... that calls for trouble... being stoned all the time makes many things easy, erupt your mind and creativity up to sky high performance but left behind your soul............ Have you ever seen chickens being totally high ? thats funny :o) You know, collecting and eating toadstool together with wild raspberries jam don't match very well.... you know, well you have to try this things, don't you think so ? Every one had to run out, in to the yard sickening....... made a big mess :o) ... but the chickens seam to like it..... guess what... the puke.... we where all fine, .... but the chicken had a big day off..... lazy snoozing on there back, (no joke), absolute high with there feet up all day long, and an other slow day after that..... the foxes must have been on holiday....
At one place, we were living in a small village, with one of this pilgrim sanctify shrine next to our garden.... and some day there were lots of people singing in front of it..... we thought to give this mad folk some extra sound... "Nina Hagen" German Punk goddess... the song goes like "God is dead..... God is dead"..... with a voice out of an opera.... "God is dead" (they didn't like it very much....... Hmm.... who cares......) A few weeks later we woke up early, about 10AM.... some one was shouting "come out with your hands up... Police", no joke the house was surrounded by anti terror police, all covered up with armor west, helmet and machine guns.... (there was dope all over the house) the Garden, the window sill, needly potted Cannabis.... tables full of pipes.... the court order for this raid wasn't even signed by a judge !?! The spook ended as fast it begun, 10 police officers in the sitting room... :o) they didn't even noticed the dope... still can't believe it ! This guys used the terrorist law made for the "Red Army Fraction" in the court order, just to say hello......!!!? Paranoia, paranoia, hallelujah........ bad, bad, bad, you don't even believe your own sister or your old dog, even your only friend the old dog is a spy to lead you in to more trouble, your whole live is created by a mystery hidden power. You just feel like to be a test rabbit in a big cage, thats what you believe..... NO, NO, NO,.... I be, I'm, I'm my self, don't listen to the voice in your head.... listen to my belly and mind. I FOUND MY WAY OUT OF IT !!! and stopped using dope, no one, NO ONE ever did help me with that, I done it all my self !! You know, some thing that doesn't kill you, makes you even stronger as a golden rule !! Well...... there is one more event, that left the deepest foot print on my mind...... That day, a nice clear November day, just as it was today.... but many, many years ago.... woke up, had a very special breakfast, with two of my best friends..... let's have a day out to the "swine's bumps" we thought..... bread with this little tiny psilocybe mushrooms, this little bugger grow all over the place, you only have to know which one they are.... (we had the right ones) no puke this time :o) Off we went out to the hills..... being 19 and feel like 6 on the first ever explorer trip of my live, set back in time and discovering the whole world new like it was the first time. Colours, taste, smells, feelings, so intense..... nature is a gift, melting together with the universe... On the road side a crow came flying across the fields... the road, just as a car past by, this crow twirled around the air..... dropped with broken neck just in front of my feet... picked it up, holding it up, towards the sky, to help that poor soul to find it's way home. Like a procession along the country lane...... suddenly a funeral car with coffin and some people came out of the distance, on that narrow road, passing us slowly...... still holding the crow up the sky........ I'll never forget the faded face of this old guy by the window, turning his head, pointing his thin finger at my dead crow bird............ homage for a crow............ In a land with all this smooth, gently flow small hills sides, shaped by big glacier thousands of years ago, home of a crow.............. I swapped my soul that day..............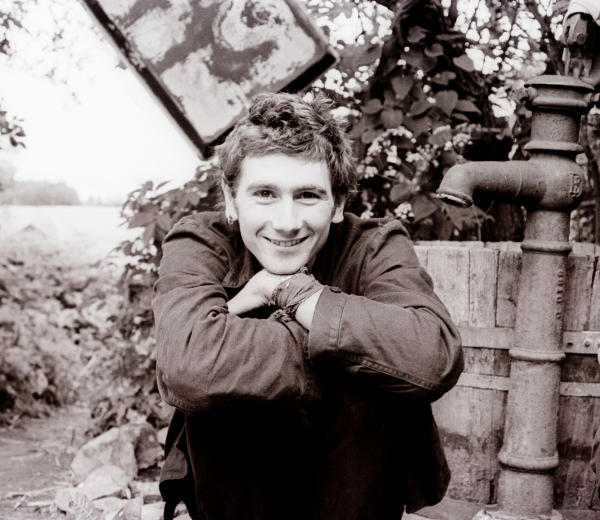 Hanno at Tuen in 1984